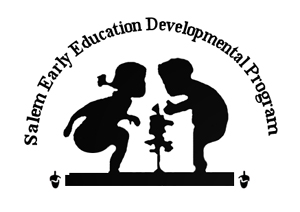 The SEED Program is a preschool program for children ages three to six years old who have been identified as having educational disabilities.
The Program:
> Is approved by the New Hampshire Department of Education.
> Provides specialized educational instruction and therapies through an interdisciplinary approach.
The SEED Program team is comprised of Classroom Teachers, Speech/Language Pathologists, an Occupational
Therapist, Physical Therapist, Certified Occupational Therapist Assistant (COTA), and Special Education Assistants.
Consultation to the staff is provided by:
> Speech and Language Pathologists
> Teacher of the Visually impaired
> School Psychologists
> Assessment Specialists
> Augmentative/Alternative Communication Specialists
> Behavior Specialists
The team works collaboratively with each student's family to develop and implement an appropriate individualized educational program for each student.

The SEED Program maintains these principals that guide our program:
> First and foremost is our respect for each child as an individual. Young children develop at their own pace and will not be expected to fulfill any predetermined expectation about when they "should" progress through stages of development. The purpose of the IEP, Individualized Education Program, is to promote each child's development within a positive and attainable framework.
> We strive to assure that every aspect of our program is firmly grounded in the principals of appropriate practices for early childhood development and education. Active involvement is a critical component of the learning process for young children. Therefore, students are provided with many opportunities for exploration through direct physical contact with their environment.
> The program curriculum promotes individualized and cooperative learning experiences that stimulate physical, social and emotional, intellectual, and language development.
> Our program fosters habits and attitudes that encourage children to feel good about themselves. Self-esteem, defined as "appreciating my own worth and importance.. .and having the character to be accountable for myself and to act responsibly toward others," is vital to motivation and success in learning and in life.
> Classroom design and the daily schedule create a framework of clarity and harmony that enables children to feel secure in their environment.
> We believe that an important resource to any young child is the love and caring of family and community. Communication with parents is vital and occurs in formal and informal ways such as parent/school conferences, notes, telephone calls, open houses, and special occasion parties.
Based on these principles, our goal is to provide an environment in which each child develops physically, intellectually, emotionally and socially at his/her own pace.
Who is eligible for program services?
Salem children, aged three years old to entering grade one, who have been identified through the referral process as having educational disabilities according to the standards set by the State of New Hampshire, may be eligible to attend the SEED program.
How is eligibility determined?
A child is referred to the SEED program team by a parent or child service agency when there is a concern about the child's development.
Identification of an educational disability is based on results of specialized testing in one or more developmental areas, hi some cases, children who are referred to the program have already been tested in the area(s) of concern, in other cases, testing is scheduled to be completed by the SEED program team.
When the testing is completed, results are reviewed with the child's family. If the child is identified as having an educational disability in accordance with State standards, an individualized education plan is designed to meet the child's needs. Enrollment in the SEED program may be a part of this plan.
What is the referral process?
When there is concern that a child may have an educational disability, the child's family, preschool teacher, physician, or therapist may request a Special Education Referral form from the Director of Special Services at (603) 893-7040. The form should be filled out with the parent's consent and returned to:
Salem School District
The Director of Special Services
38 Geremonty Drive
Salem NH, 03079
Parents will be sent a written notice that the referral was received and a team meeting will be arranged to determine next steps. Parents are invited to attend team meetings.